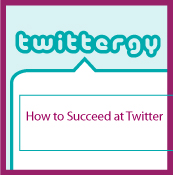 How to Succeed on Twitter
The Book
Joel Comm with Ken Burge; Twitter Power: How to Dominate Your Market One Tweet at a Time.
Also featuring: Paul McFedries; Twitter Tips, Tricks and Tweets
Speed RAP
Twitter leads the microblogging revolution 140 characters at a time. It merges SMS with the web. And, it provides a new communication channel that, for the first time in human history, allows many people to easily communicate with many others.
The Big Idea
The publishing revolution is here and you're at the centre of it. Social media is replacing mass media's dominant position. And, they're doing it with content provided by you!
Your Challenge
Ramp up your content creation by joining the Twitter community. Build your brand, expand your tribe, establish your expertise and have some fun along the way.
Buy Twitter Power 2.0 on Amazon
Buy Twitter Tips, Tricks, and Tweets on Amazon