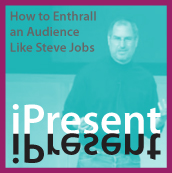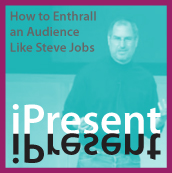 How to enthrall your audience like Steve Jobs
The Book
Carmine Gallo; The Presentation Secrets of Steve Jobs
Speed RAP
Apple CEO Steve Jobs is a charismatic, influential, zippy presenter. He's a natural model to learn from: The art of presenting your big idea from the stage. With video links to YouTube , this issue is a skillful keynote training program.
The Big Idea
Steve Jobs offers a typical presentation mode. It's a lifetime's work to master. Now, let's add a twist. Mix in some digital media and we have a whole new speaking game. From natural presentations to virtual ones.
Your Challenge
Script it, rehearse it and perform it. Get on stage and strut your idea in front of a live audience. I dare you!
Buy The Presentation Secrets of Steve Jobs on Amazon